Stamina Dual Action Elite Elliptical Trainer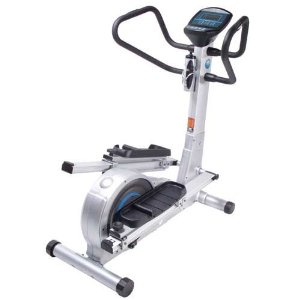 The Stamina Dual Action Elite is so named because it allows for separate types of exercise. By adjusting 2 knobs, the machine can switch between elliptical mode and stepper mode, in effect giving you 2 trainers in one.
Upper body handlebars provide for an upper body workout and have embedded sensors to monitor heart rate. At 153 lbs, the Stamina Dual Action is relatively light weight but with enough heft to avoid being wobbly and with a compact foot print, it is well suited for small spaces.
Choose from 12 training programs as well creating up to 4 custom programs. Heart rate sensor pads are located in the handlebars. The Stamina Dual Action Elite also comes with a water bottle holder and a water bottle.
You need to contact Stamina directly regarding the warranty.
The Stamina Dual Action Elite is two different machines in one and a reasonable price make the Stamina Dual Action Elite an interesting choice.Recommended.