Stamina Air Resistance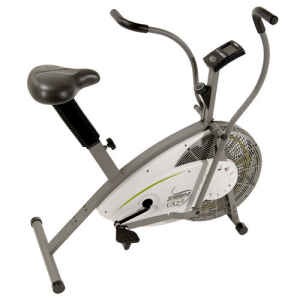 The Stamina Air Resistance is as old school as it gets. Instead of magnetic resistance or other new fangled technology, resistance is generated through a fan. The faster you go, the greater the resistance.
Stride length is only 13", making this primarily a women's (or short guy) machine. Upper body handlebars add total body workout. Maximum user weight is 250 lbs, but always subtract 25 lbs as a fudge factor.
A basic but large readout gives you speed, time, distance and calories burned. You can choose between 8 different resistance settings using a tension knob.
Warranty is basic, 1 year on the frame, 90 days on parts.
t would be easy to dismiss the Stamina Air Resistance for its basic approach, yet it also costs less than an entry level elliptical trainer, with fewer things that can go wrong. If a couple of hundred bucks are all you want to spend, Stamina Air Resistance will get your pulse rate up and burn some calories.