Smooth Agile DMT Elliptical Trainer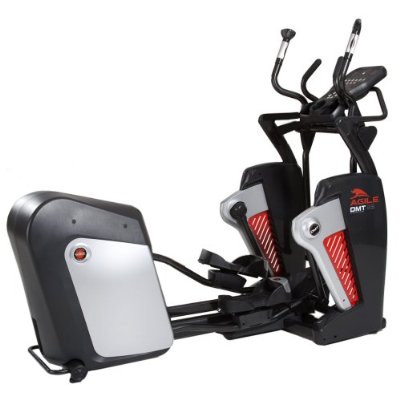 Smooth was the first maker of elliptical trainers and treadmills to use the internet to sell directly to the consumer.
With no middleman and solid designs, their trainers represent a good balance between quality and value.
The Smooth Agile DMT, as well as others in the DMT line-up (the X1 and X2 models) represents a different approach to the elliptical trainer.
Called dynamic motion, the user can choose between 12 different elliptical shapes, with each motion stressing different muscles and creating a different range of motion.
For example: in elliptical mode the maximum stride length is 19" while in agile mode this can be extended to 39".
The result is a more intense workout, with more muscles affected and more calories burned than a traditional elliptical trainer.
The Agile DMT adds upper body handle bars for a total body workout.
The Agile DMT has patented ergonomic pivoting foot pedals. These move with your natural foot movement, resulting in reduced joint stress while eliminating the heel slap that often leads to sore feet.
Furthermore, the Agile DMT is built like a tank and has a maximum user weight of 400lbs. It feels stable and solid no matter how hard you are exercising.
The Agile DMT comes with 20 resistance levels and 9 Preset Programs, incl. manual, endurance, Watts control, fat burning and heart rate control.
You can monitor your heart either through the handle bars or with a wireless HRM strap. For total convenience, controls for both resistance and elliptical motion are located on the handlebars, so you can change settings on the fly.
All of these features come at a price. With a length of 73" and a width of 31", it has foot print larger than most machines and a unit weight of 390 lbs.
To offset the inconvenience of moving the Agile DMT, Smooth offers free shipping, with the unit delivered to the room of your choice rather than curbside.
To top things off, the Agile DMT is backed up with an excellent warranty, lifetime on the frame & braking system, 5 years on all parts & electronics and 2 years in-home labor.
If you are a heavy duty elliptical user and want the most out of your workout, the Agile DMT would be an excellent choice, though it will put a serious dent in your pocketbook.