Smooth CE 3.7 Elliptical Trainer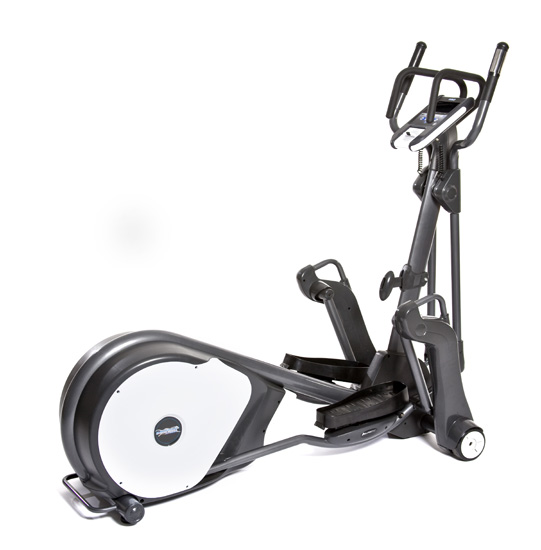 Smooth pioneered selling direct to the consumer, and their models generally offer excellent value for the money.
The Smooth CE 3.7 offers 3 different elliptical motion patterns, a concept Smooth refers to dynamic motion. With more muscles engaged, the result is a more intense aerobic workout. In the 3.7, this requires a manual adjustment.
Stride length is adjustable from 18" to 21", accommodating a wide range of users. The Smooth CE 3.7 incorporates pivoting footpads, that helps reduce fatigue and discomfort by supporting natural body movement.
The design of the CE 3.7 eliminates rollers, making for an exceptionally quiet elliptical trainer and a maximum user weight of 300 lbs.
Stationary handle bars have built-in pulse sensors for monitoring your heart rate and with the use of a wireless chest strap, the CE 3.7 elliptical will automatically adjust the intensity of your workouts to control your heart pumping at the rate you set.
Keeping you at the proper range to reach your fitness goals though the HR monitor strap is separate. Upper body exercise handle bars provides a total body workout.
The display is multicolor LCD, with 10 programs and 16 intensity levels.
The Smooth CE 3.7 has a built-in 3 speed fan to help keep you cool, a docking station with external speakers for connecting MP3 players and Ipods, though no water bottle holder.
Warranty for the Smooth CE 3.7 is excellent, with the frame covered for the life of the trainer, parts for 3 years and labor for 2 years. For extra value, The Smooth CE 3.7 includes free shipping to curbside.
We consider the Smooth CE 3.7 a choice that deserves serious consideration with the adjustable stride length of particular appeal to multiple users.
When adding the solid construction, great range of features and excellent warranty, the CE 3.7 is an excellent choice. Definitely recommended.