Smooth EVO REV 400 Elliptical Trainer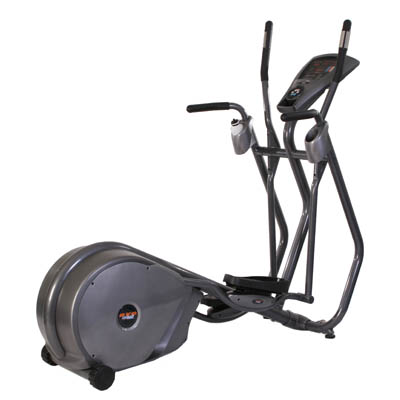 Smooth began selling factory direct in the nineties and their model line-up offers a good balance between price and features.
The Smooth EVO REV 400 is designed with a heavy frame and flywheel that gives the user a solid, health club quality experience.
Smooth's design does not use rollers like many other brands, resulting in an elliptical trainer that is very quiet during use.
The stride length of 18" is not the longest on the market but perfectly suitable for all but the tallest person and a user weight limit of 300lbs is suitable for most users.
Ergonomically pivoting foot pedals allow the feet to find their natural position when working out. This helps keep your body aligned and greatly reduces the strain on ankles, knees and hips.
This helps keep your body aligned and greatly reduces the strain on ankles, knees and hips. You can monitor your heart rate by using the sensors in the handlebars or by using a wireless chest strap (although you have to supply your own.)
When using the wireless HRM, The Smooth EVO REV 400 will adjust the resistance level to maintain a target heart rate.
The EVO REV 400 offers a choice of 16 resistance levels and 9 different programs, including manual, target distance, time or calories, random, endurance and the always popular fat burning.
Everything is controlled and displayed through a well laid out, LED display.
Smooth provides an excellent lifetime warranty on the frame & braking system, 3 years on all parts & electronics and 2 years in home labor. That is about as good as a warranty gets.
Smooth EVO REV 400 does not have as many bells and whistles as other elliptical trainers in this price range but makes up for it by doing the fundamentals very well and would be a great choice for an elliptical trainer that will see a lot of heavy duty use.
If you buy directly from Smooth, free shipping is another benefit to consider.