Schwinn 460 Elliptical Trainer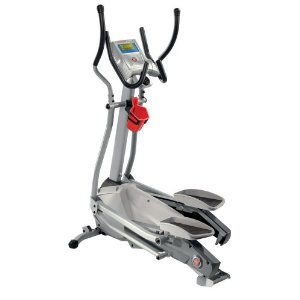 The Schwinn 460 elliptical trainer is the flagship of the Schwinn line. With adjustable stride length, which Schwinn calls V-Stride™ technology, the stride length can be a minuscule 2" and as lengthy as 26" without manual adjustments or machine modifications.
his provides several benefits. With a short stepping stride, you target calves and quads. A longer stride is more like walking, and works the thighs and glutes.
At the longest stride length, you get the hardest workout, involving all muscle groups.
The V-Stride™ capability also lets you optimize stride length to what feels most natural, making the Schwinn 460 suited for users of all heights.
The Schwinn 460 is a stable machine, the result of a heavy unit at 221 lbs and a 25 lb flywheel located towards the middle of the unit which also ensures a smooth stable ride even when going at it hard.
User weight is rated at up to 300 lbs and given the units own weight, this is closer to reality than other Schwinn models.
Transport wheels and handle grip makes it easier to move the unit around if needed.
Articulating footpads lessen the impact on legs and ankles and lets the feet find their natural position.
Separate upper body arms provide a total body workout and you can monitor your heart rate 2 ways, through the touch pads embedded in the handle bars or by using a chest strap.
The display is backlit which definitely helps in low light conditions and shows time, interval time, RPM, Watts, distance, pulse, speed, calories, resistance level and course profile.
There is a choice of 16 different workout programs, 1 manual program, 11 profile programs and multiple custom programs as well as instructional messages. You choose from 16 different resistance levels.
Nice extras include cooling fan and water bottle holder.
The warranty is the weakest area of the Schwinn 460, with 10 years on the frame, 2 years on parts other than wear parts which is 6 months and 1 year on electronics.
The Schwinn 460 packs a lot of features into a small package and manages to get the price under $1000.
Well suited for someone who is looking for some serious workouts or where there will be multiple users preferring different stride lengths. Recommended.