ProForm 590E Elliptical Trainer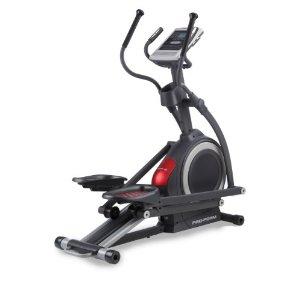 The 590E is one of several new models for 2010, and they are staying consistent with their claim of budget pricing combined with extras not often found in this price range.
Users over 6 feet may find the stride length of 18" a bit restricting but it is adequate for the great majority of users. Oversized foot pedals make it possible to find the optimum foot position.
Maximum user weight is 300lbs, and upper body handles make it possible to get a full body workout.
The Proform 590E lets you change the incline of the elliptical motion. The steeper the incline, the harder the workout. At different inclines, you also target different muscle groups.
The fixed handlebars contain sensor to help you keep track of your heart rate.
The 590E offers 14 different built in exercise programs and 18 different resistance settings.
The 590E is also iFit enabled, though you have to buy iFit cards separately. You insert a card, with each containing a separate workout program designed by an exercise professional, who also provides advice and support.
You can get cards that target specific goals, such as cardio or fat burn and specific muscle areas, such as glutes or hamstrings.
As a result, you have as many training programs available as you choose to acquire from iFit.
The console has several nice perks. A docking station connects your MP3 player or Ipod to a speaker system, eliminating the annoying head phone cord. A variable speed fan help keeps you cool.
The display is backlit and easy to read, and gives you core information such as distance, time, calories burned, pulse rate.
The warranty is a basic lifetime on the frame and 1 year on parts and labor.
The pricing on the Proform 590E is somewhat confusing since it is normally priced below the 790E, but with frequent sales, either model may be the lowest priced.
When considering price, Proform includes free shipping, not inconsequential for a heavy item.
The basic question when considering any Proform is how heavy it will be used. You get a lot of extras that will help you stay on a training program, at a good price.
On the other hand, if the elliptical trainer will see multiple hours of use daily, think twice.