ProForm ZE5 Elliptical Trainer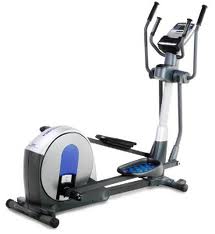 The Proform ZE5 Elliptical Trainer is the most affordable model in the Proform lineup, and considering the price, delivers solid quality and features. Unlike most elliptical trainers, the Proform ZE5 folds up, taking less space after use.
Pedals are large enough to allow for the feet to find their optimum position and maximum user weight is 275 lbs, less than on most other units.
A key feature on the Proform ZE5 elliptical trainer is the option to select the stride length that suits you best, 13 inches, 15 inches or 18 inches.
Changing stride lengths is also a good way to mix up a workout and focus on different muscle groups.
12 resistance levels and 16 pre-programmed workouts provide variety, while contact sensors lets you track heart rate.
The Proform ZE5 elliptical trainer also comes with Ifit which allows you to upload additional training programs, though you have to purchase them separately.
With a lifetime warranty on the frame and 1 year on parts and labor, warranty on the Proform ZE5 elliptical trainer is solid considering the price.
If you are looking for a budget elliptical trainer or is pressed for space, the Proform ZE5 deserves serious attention.